Precision Distillation Services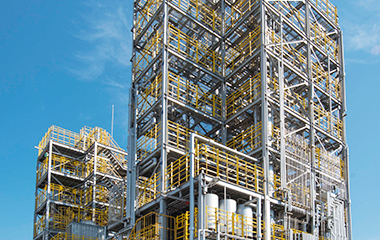 Precision distillation of various kinds of chemical substances
We carry out the refining of various chemical substances at degrees of precision which are in line with the requests of clients. We can deal with a wide range of volumes, from several tens of grams to several tons. Since our founding, we've cultivated expertise and experience through high purity refining of chemical products numbering over 1000 items (such as for pharmaceuticals and agricultural agents, perfume chemicals, liquid crystals, electronic materials or other substances); and based on those expertise and experience, we give our clients comprehensive proposals for areas such as material selection, optimal distillation and methods of utilization for collected data. With respect to projects we've received for repeat orders as well, we strive to conduct proposals for proper improvements based on our R&D conducted daily.
Projects We'll Handle
Projects characterized by boiling points differing by less than a degree centigrade
Projects involving substances with high melting and boiling points
Handling of substances that are highly corrosive
HVAC handling for substances that are weak to heat
100-split (to the extent possible)
Projects turned down by other companies
Projects that require meticulous temperature control within the range of 30 to 350 degrees centigrade
*Please feel free to consult with us for any other projects presenting a high level of difficulty
Service Process
1

Inquiry
Inquiry

Please make an inquiry via phone, fax or by email.
2

Preparations/
Experiments
Concluding of an NDA

We'll conclude an NDA based on client-side specifications

Meeting

We'll talk about the number of units, the required purity, and methods of analysis, as well as the physical properties and processing requirements, among other factors pertaining to the project

Experimental refining

We'll conduct experimental refining using a material sample

Evaluation of experiment results

Evaluation takes place of the experiment results and consultation on product standards and other issues
3

Actual Production
Estimate

An estimate is submitted

Contract for commissioning

The content of the commissioned project is finalized

Production and delivery

The product is refined using the actual production equipment and delivered to the client

Finished product evaluation

Evaluation of the finished product is conducted along with a consultation on the next project to be commissioned