Precision Distillation Services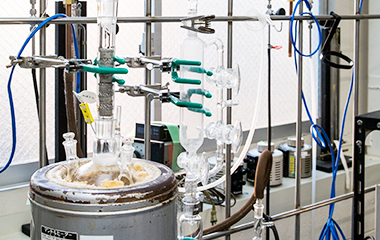 Small scale distillation for research
For the purpose of fundamental research for our clients, we take the materials received and refine it with a distillation apparatus (from 0.1 L to 10 L) in the research lab. Based on those results, an optimized solution is derived for when the time comes to switch the apparatus being used for distillation at the production base.
Moreover, based on our motto of "giving clients more than they've asked for", we actively make recipe proposals from differing angles; we don't just produce the recipe as per the original request. Other than that, we also conduct a wide range of support that includes provision of aggregate data required for research, proposals geared towards future production, and scale-ups for commissioned processing.
Projects We'll Handle
Projects involving boiling point differences of less than1°C
Projects involving substances with high melting/boiling points
High vacuum for heat-sensitive materials
Highly-corrosive substances
Percentiles (as much as possible)
Providing long-term continuous data
Spot tasks
Small-volume tasks
Providing backup support
*We can handle various other tasks and requests as well. Please feel free to contact us.
Service Process
1

Inquiry
Inquiry

Please make an inquiry via phone, fax or by email.
2

Preparations/
Experiments
Concluding of an NDA

We'll conclude an NDA based on client-side specifications

Meeting

We'll talk about the number of units, the required purity, and methods of analysis, as well as the physical properties and processing requirements, among other factors pertaining to the project

Experimental refining

We'll conduct experimental refining using a material sample

Evaluation of experiment results

Evaluation takes place of the experiment results and consultation on product standards and other issues
3

Actual Production
Estimate

An estimate is submitted

Contract for commissioning

The content of the commissioned project is finalized

Production and delivery

The product is refined using the actual production equipment and delivered to the client

Finished product evaluation

Evaluation of the finished product is conducted along with a consultation on the next project to be commissioned